Once again we launch our Annual Christmas Appeal for our parish outreach project in Lodwar, Kenya.
The newly appointed Bishop John Mbinda and Sr Agnes are most grateful for your support of this most worthy project. The generous donations of parishioners, amounting to €187,894 since 2011, have helped give these girls the gift of education, which enables them to break out of the trap of poverty. 
(See School website, Facebook page and photos).
This video shows some of the recent school projects we have helped support.
The photo on the left shows Fr Fergus with Bishop Dominic Kimeng'ich in Nairobi in August 2016, giving him our summer contribution of €5,290. 
The school is developing very well, as Bishop Dominic outlined in his November 2020 email:
"I wish to take this opportunity to thank you and the Parishioners of Our Lady Queen of Peace Parish for supporting our school Queen of Peace Girls Primary School during this time of the Covid-19 pandemic.
Kenya, like many other countries, have been affected by the virus. The virus has distrusted learning in our schools. All our schools were closed since March until recently when those preparing for national schools were allowed to go back to school.
For Church schools like Queen of Peace that do not get government funding, it has been a very difficult period. The big challenge has been paying the salaries of teaching and non-teaching staff. Many such schools have been unable to operate and have opted to close for good.
Thanks to the donation that Queen of Peace received from your Parish, the school has been able to pay the salaries of the teachers and some essential staff members.
Here in the Diocese of Eldoret I have met quite a number of students in a number of Secondary schools here who were in Queen of Peace. I am very much delighted to see them doing very well. It shows the positive impact Queen of Peace is making. The students are now exposed to a different environment and encountering new experiences different from Lodwar.
God bless you abundantly for through your help lives are being transformed for the better."
WhatsApp text from Bishop Dominic on 3 November 2021
Thanks very much for the wonderful good news regarding the financial support for Queen of Peace Girls Primary school. It is a huge boost to them. My sincere thanks to your parishioners for this generous commitment to Queen of Peace.
God bless you abundantly.
WhatsApp text from Bishop Dominic on 14 April 2021
Greetings from Eldoret. I hope Sr. Agnes has already shared you that our school Queen of Peace did very well in the National Exams. It attained a mean grade of 332 up from the last mean grade of 319. I am yet to receive the full results but from the look of things many of our girls will join very good High schools for their Secondary education. Now Queen of Peace is one of the best schools in TURKANA.
Thank you so much for the great support from the faithful of your parish. We can truly see the fruits of their generosity.
God bless you abundantly.
During his visit to Lodwar in July 2015 Fr Fergus celebrated Mass for the students and staff of the school in the new multi-purpose dining hall. The liturgy was enhanced by the beautiful singing of the choir. Afterwards there was some poetry
and singing to entertain the visitor, which among other things illustrated the talent of the girls and highlighted their dreams for the future.
It was a joy to see how much has been achieved already and to be able to assist in the ongoing development of this wonderful project.
Our initial donation was in fact the catalyst for launching the construction of the school.
Fr Fergus stayed with Bishop Dominic and also met Fr John O'Callaghan, a Kiltegan missionary from Kilmallock, who has been very involved in the execution of the project and Mr Tony Woods, from Doon, the diocesan administrator.
The visit of Fr Joseph Ekalimon, Vicar General of Lodwar Diocese, to our parish in June 2013 further cemented our links with Queen of Peace School. Fr Joseph spoke at all weekend Masses expressing the gratitude of the people of Lodwar for our support. He also highlighted the need for this project: the provision of quality integral education for young girls, who tend to be overlooked due to shortage of resources. We are very pleased to be able to lend our support and we have an ongoing commitment to this worthy cause.
The ongoing generosity of our parishioners  is giving a welcome boost to this very worthy project and helping these young girls to have a brighter and better future through the empowerment that access to education will give.
Irish Connection
The diocese was set up in 1978, and was an Apostolic Prefecture for the previous 10 years. It has a long association with Ireland – over 40 years:
Turkana a Deprived Area
From a development perspective, Turkana comes last of the 46 districts in Kenya and only 6% of the population are in paid employment. The diocese has been making a huge contribution to the spiritual and material welfare of the people of Lodwar. This district has one of the lowest levels of literacy in Kenya despite the introduction by the government in 2003 of free primary education. There is demand for education, but a shortage of facilities.
Poor access of Girls to Education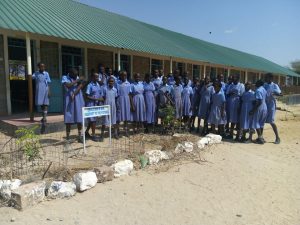 The construction of Queen of Peace Primary School for Girls is an initiative by the diocese in the context of a culture that gives less preference to girls than boys to attend school. Only 2 of the 17 primary schools in Lodwar are for girls and these are unable to cope with the huge number of girls seeking admission. This difficulty of access to primary education has various implications for girls:
Low transition to secondary level education
Exposure to early entry into the workplace and early marriages
And, in the long term, poor social and economic advancement.
This YouTube video gives some background to the project. See especially comments of Bishop Dominic at 2'52".