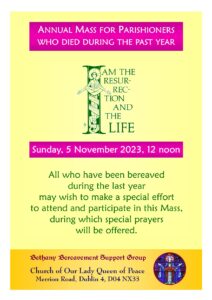 The month of November is traditionally the time of year when Church liturgy invites us to pray for all those who have passed from this world. It is a particular duty in charity to remember deceased family and friends at this time.
The 12 noon Mass on Sunday, 5 November 2023 was offered for all those we love who have gone before us and especially for members of our parish who have died during the past year. We will also include those who have no one to remember them.
This liturgy was organised by members of the parish Bethany Bereavement Support Group, who are available to help and support those who are grieving the loss of loved ones.